Grim's Fall Festival
NO RESERVATIONS OR APPOINTMENTS NEEDED!
Coming September 11 to October 31 2021
Saturday & Sunday Only and Columbus Day Monday!
Due to Covid19, we have implemented changes for all our pick-your-own crops and activities, to keep you the customer, and our employees safe, while maintaining social distancing.  Click on the link below for more information now.  
Activities & Exhibits for the Whole Family!
Corn Maze, try your luck at finding your way thru groomed paths cut into our 8 acre field of 6' to 8' tall irrigated Corn Maze. Test your knowledge for hints to the exit.
Pick your own Pumpkins from our irrigated Pumpkin Patch grown on a bed of straw, 1000's to choose from
Pick-Your-Own Apple orchard, over 20 different varieties
Hay Ride Tours
Many photo opportunities, bring your cameras
Delicious Refreshments available for purchase in our farm kitchen, bakery, and sweet treats spot
No Alcoholic Beverages Permitted!
Certified Service Animals ONLY. No emotional support animals or pets on the property.
No Smoking!
Please no firearms on the property.
The Fall Festival Package
$16.95 per person
Everyone ages 3 and older must purchase a package to get access onto the Farm
Age 2 & under are free
Corn Maze
Hay Ride
Cattle Train
Bounce Pillows
Play Corral
Sports Center Ball Toss
Bunker Hill
Caterpillar Slide
Pedal Karts
Sand Pit
Spider Web
Hay Mountain
Duck Races
Bouncy Balls
Corn Hole
Ladder Golf
Corn Bin
Also Check out our Farmer's Paintball!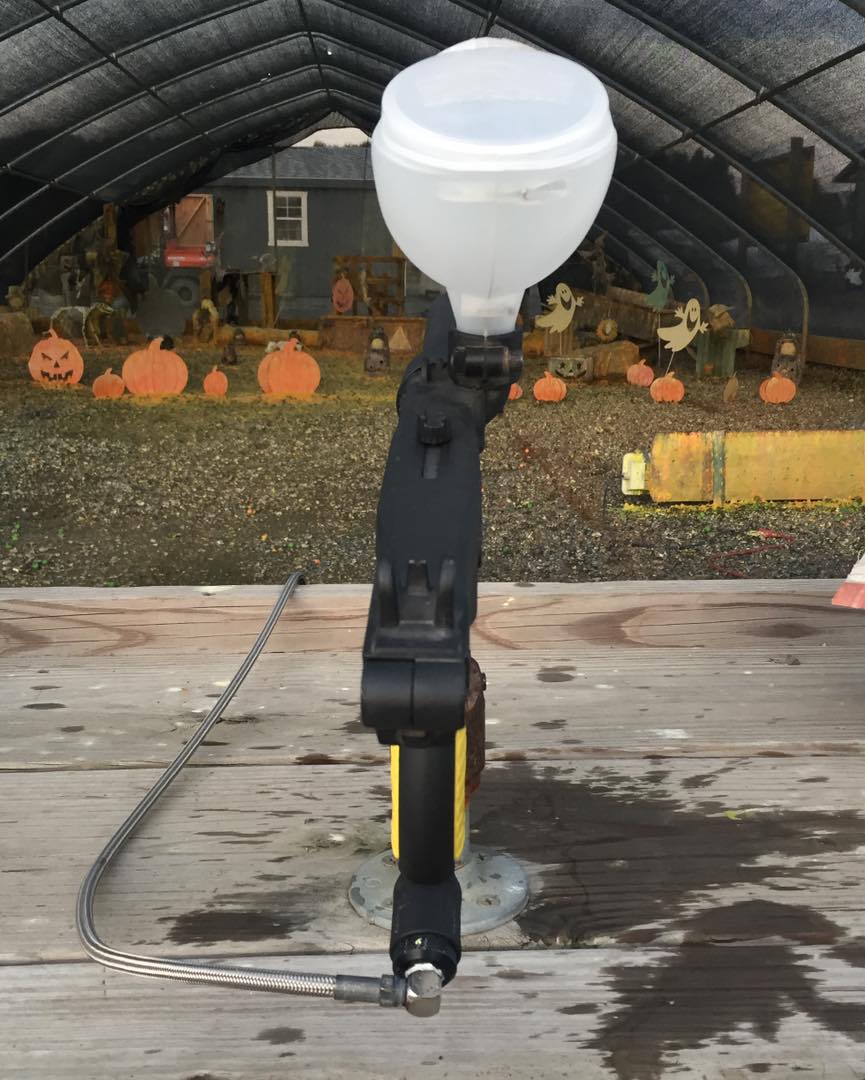 Help Farmer Grimmy protect his crops by honing your accuracy with our stationary targets!
Pricing:
50 paintballs
$6.59
100 paintballs
$10.99
200 paintballs
$20.89
Did You Say Apple Cannons?
Don't forget to shoot our apple cannons this Fall when you visit the farm!
7 shots for $5.49
15 shots for $10.99
Grim's Holiday Harvest
---
Coming Saturday & Sunday November 2021, from 11 a.m. to 5 p.m.
Last packages sold at 4:30pm.
Kitchens/fryers open at 11am and close at 4:30 pm.
We'll have lots of items available for sale including holiday gifts and decorations!
We'll be offering:
Fire pits with s'mores kits
Hard cider, wine and mulled cider
Fresh-cut fries, barbecue and hot dogs
Play corral
Apple cannons and farmer paintball
Pick-your-own potatoes and sweet potatoes
Plus lawn games, sweet treats, and all your Grim's favorites!
Do some holiday gift shopping, grab a bite, and choose one of two ACTIVITY PACKAGES:
Picking Package: One 1/4 peck picking bag plus access to the fire pits, play corral, and farm animals.
S'mores Package: One s'mores kit or bag of marshmallows plus access to the fire pits, play corral, and farm animals.
Each package is $7.95 per person, everyone ages 3 and older.  2 and under are free.  You may come in to shop and enjoy hot food and drinks without purchasing a package. You must choose a package to access the rest of the farm.