decoration
Thank you for a wonderful 2021 season at Grim's!
We are officially closed for the season.
We appreciate you stopping by and joining us at the farm, and look forward to seeing you all next spring for cherries & strawberries!
Quality Produce & Family Fun for the Entire Lehigh Valley
Grim's Orchard & Family Farms started as 17 acres of land growing feed corn, wheat, barley, and oats, raised over 3,000 chickens, and planted a one-acre garden. Now Grim's has thousands of apples, strawberries, cherries, vegetables and pumpkins to choose from for Pick-Your-Own, and activities for the whole family to enjoy Spring, Summer, and Fall.
What's Happening Now?
NO RESERVATIONS OR APPOINTMENTS NEEDED!
We are now closed for the season. See you in Spring for strawberry and cherry season!
Thank you for a great year! See you in Spring 2022!
Consider giving the gift of a Grim's Gift Card to your family for any occasion!
Order them an E-Gift Card Today!
We are now Cashless.
Order your e-gift card today.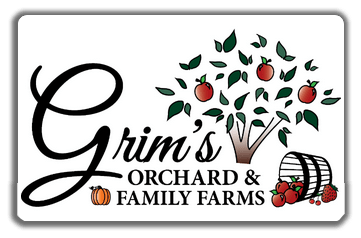 Grim's Orchard & Family Farms
Pick-Your-Own Fruit & Vegetables
It all started on October 11, 2010, Josh had a great idea to expand the existing Corn Maze and Fall Festival by planting dwarf apple trees for a Pick-Your-Own apple orchard. Within a couple of weeks, he had 3,800 trees and supplies ordered for planting in Spring, 2011. Grim's Orchard & Family Farms Pick-Your-Own season includes apple picking, cherry picking, strawberry picking, and in the fall we have an award winning pumpkin patch, potatoes and other farm fresh vegetables! Do you have questions about the picking schedule or availability? Call the PICK-YOUR-OWN-HOTLINE @ 610-841-1417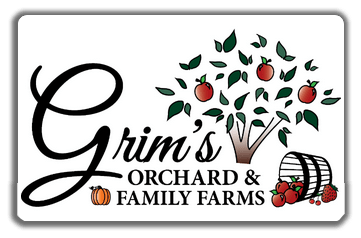 Join in the fun during our Great Potato Dig!

Featuring fresh-made french fries from potatoes you pick! You pick 'em, We fry 'em!
Fall Festival Attractions
Between the Fall Festival, Apple Picking and Corn Mazes galore, there's always something happening at Grim's Orchard!
Hours & Events:
We are now closed for the season. See you in Spring for Strawberries and Cherries!
For all Grim's availability call the Pick-Your-Own Hotline at 610-841-1417.

Loading…